Transportation
Dear Guests & Friends,
we have a Partnership with GoldCoastCarRental.net
tel 1-800-421-8752

You will get the Best Rates Year around & by referring Villa Sinclair, you will get an additional

10% OFF


Please find a comprehensive transportation information for you to decide which way you want to come to Villa Sinclair, Beach Suites & SPA in Hollywood Beach, Florida. We strongly advice you to reserve in advance you airfare since prices may vary up to triple for airplanes ticket.

Villa Sinclair, Beach Suites & SPA Villa also have only 6 suites apartments and for your information the population in South Florida double during the Winter, from December to April so early reservation is recommended. Reserve your Rental Car online will get you better deal than by phone, or at the Airport since employees are not always aware of the best deals or are booked if you wait the last minute. Find below a selection of online Travel companies with discount airfares & Discount rental car Rates:
DRIVE OR FLY or SWIM?


| | |
| --- | --- |
| Paris France&nbsp | 9hr 30 mins |

To Miami International Airport only & driving or swimming is out of the question!
Flying times to Fort lauderdale/
Hollywood Airport from:


Atlanta
1 hr. 50 mins.
Boston
3 hrs. 10 mins.
Chicago
3 hrs. 15 mins.
Columbus
2 hrs. 30 mins.
Denver
4 hrs. 26 mins.
Detroit
3 hrs.
Houston
2 hrs.
Indianapolis
2 hrs. 40 mins.
Los Angeles
5 hrs. 35 mins.
Minneapolis/St. Paul
4 hrs.
New Orleans
1 hr. 5 mins.
New York
2 hrs. 45 mins.
Philadelphia
2 hrs. 30 mins.
St. Louis
2 hrs. 50 mins.
Washington, D.C.
2 hrs. 25 mins.
Driving distances to Hollywood Beach from Florida cities:


South Beach
20 miles
Hollywood Downtown
2 miles
Fort Lauderdale
10 miles
Miami
30 miles
Jacksonville
328 miles
Key West
194 miles
Orlando
216 miles
Palm Beach
50 miles
Tallahassee
465 miles
Tampa
240 miles

Driving distances to Hollywood Beach from Florida cities:
Public buses serve 410 square miles with 40 routes. (954) 357-8400.

TRI-RAIL
A 67-mile commuter line links Broward, Palm Beach and Miami-Dade counties, with free shuttles to the airport.
(800) TRI-RAIL.



AUTO RENTALS






Hop aboard one of Water Taxi's boats and step ashore at major stops along the waterways. All-day unlimited service passes are $5. Bulk ticket packages and charters available. (954) 467-0008.



PORT EVERGLADES


The deepest harbor in Florida, Port Everglades is a favorite for more than 35 cruise ships and the Navy.

(954) 468-3539.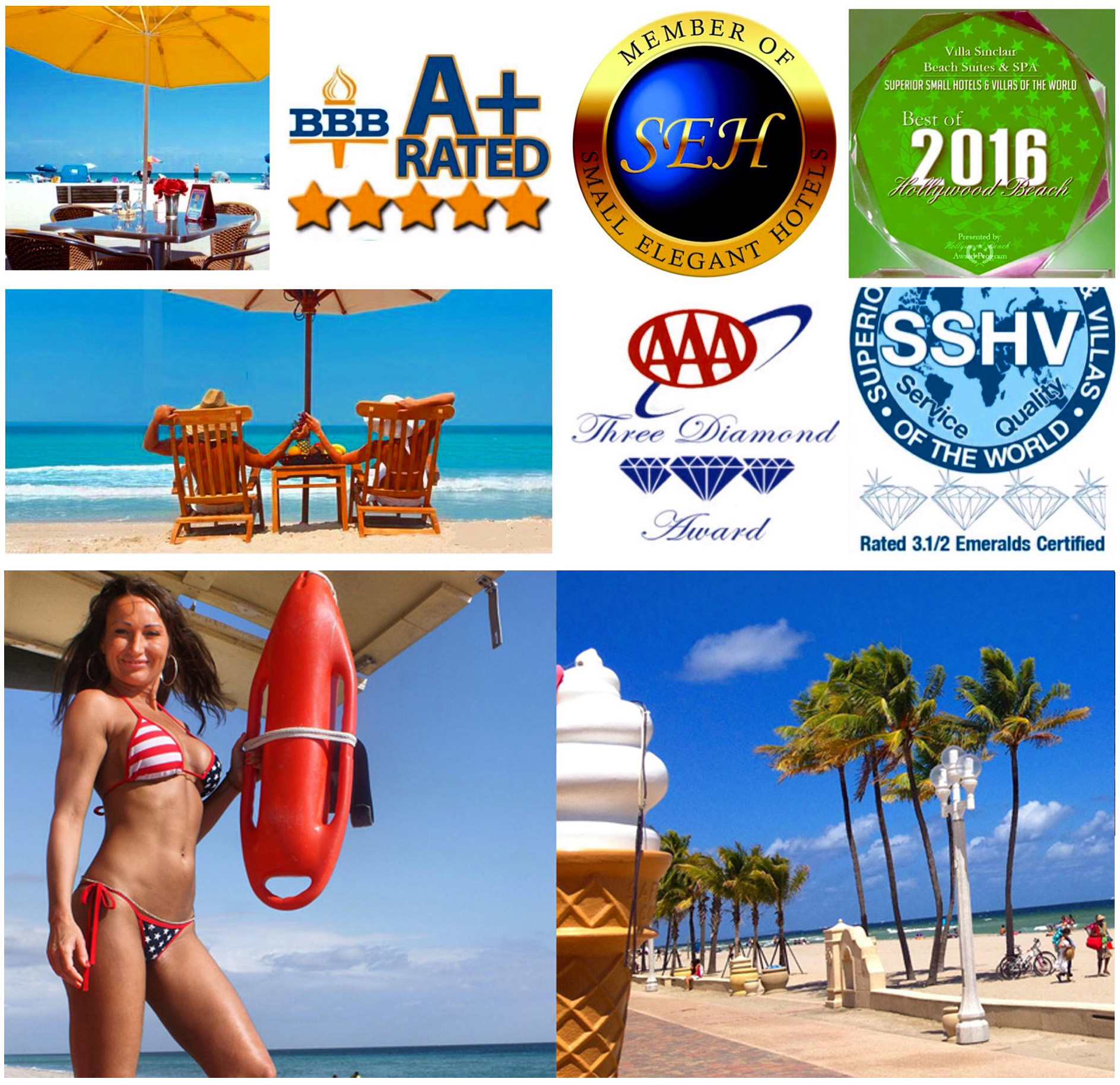 First & Only Hotel on the beach Certified Member of the Better Business Bureau of South Florida

Certified member of the Small Elegant Hotel Association

you will come for the beach.... your will stay for the quality of life..

Beach rated Blue Wave 5 years in a row for it's quality of sand & water..

Restaurant terrace right on the broadwalk & the beach, grea for people watching

Smile you are on Vacation...

Enjoy casual dining right on the beach at BONNIE &REED'S Toucan Bar Restaurant

Play golf during the day

Family Fun, Romantic Getaway, Relaxing vacation... Hollywood Beach has something for everyone....

Taverna Opa restaurant sunset on the bay is just steps away from the Villa

Simply the best Place for your family....

Get away for a day in the Everglades National Park & see the Wild life on airboat

Hollywood beach always an event to celebrate all year long.... check our Calendar of events or call 1-954-450-0000

catch a view of our Alligators....

see a sea turtle ...

see a Manatee...

go fishing & catch strange fish...

dive with the Pros...

we have also sting rays....

be welcome by Carol's girl friends in Hollywood beach...

Enjoy a sunrise on the beach...

a enjoy a beautiful sunset on the rerrace of Girogio Grill on the Intra-coastal

have a Romantic breakfast on the beach...

Sawgrass mills mall is the largest Outlet mall of South Florida with a great shopping experience...

Every last Friday of each month, Hollywood Beach held a Classic Antique Dream cars show on the Boardwalk....

Unique 2.6 Miles long beach promenade for the fun of your entire family...
Villa Sinclair Beach Suites & SPA 317 Polk Street Hollywood Beach Florida RSVP 1-954-450-0000 email: VillaSinclair@me.com Video Call: www.Skype.com : hlongelin007 www.facebook.com : Hughes Longelin