3 Diamonds AAA
1 Bedroom Beach Suite "Monet" #5,
1 Bedroom with King Bed + Living Room with Queen Sofa Bed
+ Full Equipped Kitchen + Full Bath + 2 Office Desks + Dinning Table for 4 - 750 SQF
for 2 to 4 persons

Appartement en bord de Mer, d' 1 Chambre 1 Lit King + Sejour avec Sofa Lit Queen+ Cuisine equippee + Salle de Bain
+ 2 Bureaux & Table a Manger pour 4- de 80m2- Porte d'entree et Porte d'acces Patio Lounge - 8 Fenetres-18 Peintures Originales

Features 18 Original Paintings from our friends, Mira, Patricia Burger & Frederic Payet
it has a front door & a 2nd access door to the back Patio lounge It's a wrap-around apartment with 8 windows.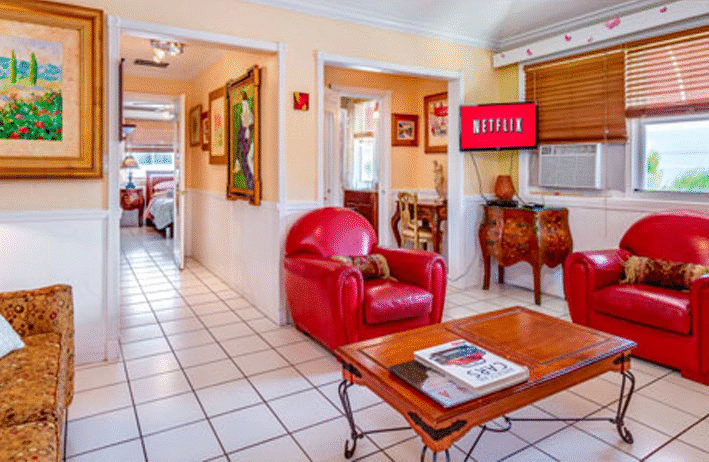 Just 150 feet away from the beach....& the Unique Hollywood Broadwalk, the ONE & Only 2,6 Miles long Beach Promenade directly on the Beach, with Restaurants, & Shops & NO Street, NO cars in between! Get your Private Beach Retreat for 2 to 4, steps from the Beach, the Boardwalk, plenty of Restaurants, Shops, & Bars, Clubs & Enjoy wonderful Sunrises on the Beach & Fabulous Sunsets on the bay, just 1 Block in between. Our 1 Bedroom Beach Suite has a back door access to the tropical lounge patio with all amenities.
Blue: PEAK Season Rates: November-December-January-February-March-April-July-August
1 Bedroom Beach Suite 750SQF for 2 or 4 Persons $1,250/Week
(8 Days-7 Nights)
$1150/Week Friday to Friday
$199/Night* Minimum 3 Nights
7 Nights Minimum During Holidays
Red: OFF Rates: May-June-September-October
+ Save $100/Suite: Reserve 2 or more Suites for one Week*,
+ Save $100 OFF/per Suite/week -Reserve Friday to Friday*
* 2 Offers may Cumulate - except during Holidays
1 Bedroom Beach Suite 0SQF for 2 or 4 persons $1,050/week*(8 Days-7 Nights)
$950/Week Friday to Friday
$199/Night minimum 2 Nights Weekend
4 Days -3 Nights Weekend Special $550.00
Monday to Thursday: $179/Night Minimum 2 nights
----------------------------------------
+ *Add $100/Night On Dec.25th, Dec.31st, Feb.14th, July 4th, Nov.27th & NO Discount apply during those Holidays
+13% Florida Hotel Sales Taxes
Don't get a Hotel room 235SQF to 330SQF,
Get an Oversized 1 Bedroom Beach Suite with Full Equipped Kitchen from 550SQF to 800SQF!

If you decide to come to Hollywood Beach, Florida for just a Weekend Getaway, a Week, a month or more, Villa Sinclair is the BEST choice you could make & we will be pleased to receive you as our Guests & Friends for you to share a "6th sense experience"...
Hughes Longelin Owner & Host

RSVP 1-954-450-0000
Call-Text-Whatsapp RSVP-Availability-Special Request