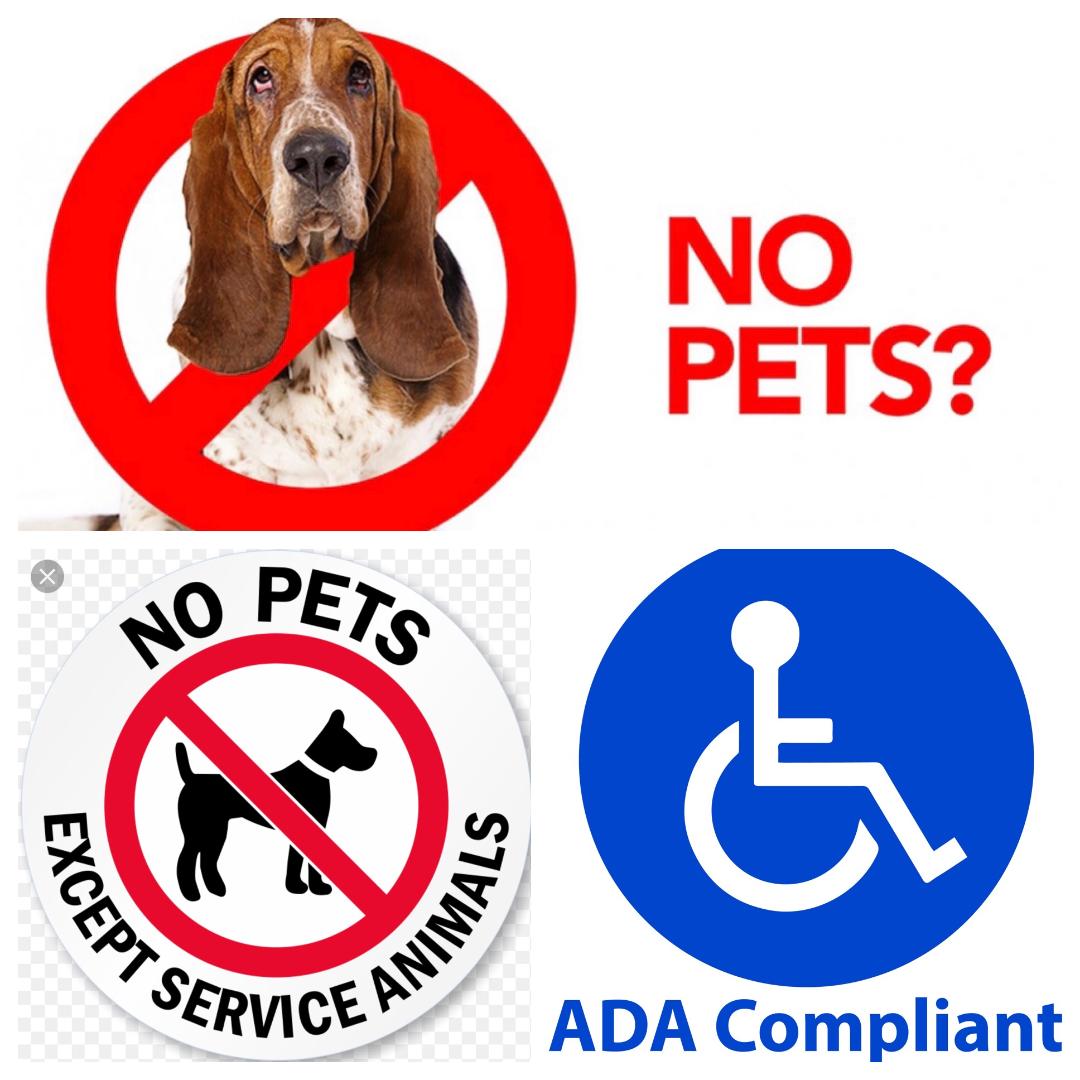 Sorry, NO PETS ALLOWED:
1/NO PET Liability Insurance
PETS OWNER's LIABILITY Only.
2/ To Respect Our Other/ Next Guests may be Allergic or Scare of DOGS or Pets.
3/ Hollywood Beach Florida is not Dog/Pet Friendly-
You can Get:
$50 Pet fine on Broadwalk
Up $240 fine on the Beach.
@ Villa Sinclair Beach Suites & Spa
We Do Not Accept Pets:
4/ Every time You would be on the Beach, on the broadwalk or at a Restaurant Terrace, your Dog/Pet would have to stay in your suite,
5/ Your DOG maybe Barking & disturbing other guests or Chewing on our Furniture or Bedding or Peeing etc....
6/
By LAW & Upon ADA Act II
We Do accept « Service Dog »
Yes, we do accept Service Dog on Our Property upon ADA Rules:
You do not have to show us any Proof that Your « Service Dog » is an « Actual Service Dog » but upon our Property Rules

You MUST agree upon the Terms Below:
1/ Service Dog Nightly Fee:
$29/Night fee/ Dog + 13% Fl hôtel taxes


2/ Final deep Steam Cleaning Fee
If Your Dog has long hairs & or it you left any mess or excessive Smell or if You stay 7 nights or More nights
$250 Final steam clean fee of your Entire Suite at the discretion of Management.

3/ Mandatory requirements on Property:
Your Service dog must be on a leash all the time on property.
Your Service dog must stay on the Ground & not lay on any Pillow.
Service Dog Owner Must pick up & Clean any Service Dog's Poop on property or be charged $50 per Incident for team member to clean up after Your Service Dog.
Service dog can not be left alone in the Suite when you are on the Beach or the Broadwalk or Out & Service Dog must be with its Owner at all the Time.

4/ If Your Service Dog barks at night & disturb the Peace of others Guests, Management May request that you shorten Your Stay & ask you to check out early. In this case, & in consideration with the disturbance there No refund for the remaining Nights of Your Stay.

5/ in Case Your Service Dog bite any Employee or Management on Our Property, service Dog Owner agrees to be financial Liable up to US$ 1 Million in Damages upon our Liability Insurance Terms & up to US$2 Million if a Guest is Bitten by your Service Dog on Our Property.
Registered Guest with a Service Dog is Financially Liable for its Dog in case of any Damage if Dog bites Owner, Employees or guests for what ever happen on Property.

6/ Release of Liability: Sinclair Properties, LLC, DBA Villa Sinclair, Its Owner, Manager, Employees can not be Liable for any incident, Accident that may Involved a Service DOG on Property, Only the Service DOG OWNER is Financially Liable.
By Accepting to Stay in our Property, You accept the terms above with NO Reserve. Conditions above must be dated signed & agreed upon check in by the Service Dog's Owner with copy of Photo ID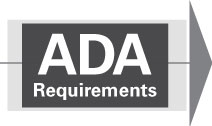 Service Animals
The Department of Justice published revised final regulations implementing the Americans with Disabilities Act (
ADA
) for title II (State and local government services) and title III (public accommodations and commercial facilities) on September 15, 2010, in the Federal Register.
Overview
Beginning on March 15, 2011, only dogs are recognized as service animals under titles II and III of the ADA.
A service animal is a dog that is individually trained to do work or perform tasks for a person with a disability.
Generally, title II and title III entities must permit service animals to accompany people with disabilities in all areas where members of the public are allowed to go.
How "Service Animal" Is Defined
Service animals are defined as dogs that are individually trained to do work or perform tasks for people with disabilities. Examples of such work or tasks include guiding people who are blind, alerting people who are deaf, pulling a wheelchair, alerting and protecting a person who is having a seizure, reminding a person with mental illness to take prescribed medications, calming a person with Post Traumatic Stress Disorder (PTSD) during an anxiety attack, or performing other duties. Service animals are working animals, not pets. The work or task a dog has been trained to provide must be directly related to the person's disability. Dogs whose sole function is to provide comfort or emotional support do not qualify as service animals under the ADA.
This definition does not affect or limit the broader definition of "assistance animal" under the Fair Housing Act or the broader definition of "service animal" under the Air Carrier Access Act.
Where Service Animals Are Allowed
Under the ADA, State and local governments, businesses, and nonprofit organizations that serve the public generally must allow service animals to accompany people with disabilities in all areas of the facility where the public is normally allowed to go.
Service Animals Must Be Under Control at all Time.
Under the ADA, service animals must be harnessed, leashed, or tethered, unless these devices interfere with the service animal's work or the individual's disability prevents using these devices.
Inquiries, Exclusions, Charges, and Other Specific Rules Related to Service Animals
When it is not obvious what service an animal provides, only limited inquiries are allowed. Staff may ask two questions: (1) is the dog a service animal required because of a disability, and (2) what work or task has the dog been trained to perform. Staff cannot ask about the person's disability, require medical documentation, require a special identification card or training documentation for the dog, or ask that the dog demonstrate its ability to perform the work or task.
Allergies and fear of dogs are not valid reasons for denying access or refusing service to people using service animals. When a person who is allergic to dog dander and a person who uses a service animal must spend time in the same room or facility, for example, in a school classroom or at a homeless shelter, they both should be accommodated by assigning them, if possible, to different locations within the room or different rooms or area in the facility.
A person with a disability cannot be asked to remove his service animal from the premises unless: (1) the dog is out of control and the handler does not take effective action to control it or (2) the dog is not housebroken. When there is a legitimate reason to ask that a service animal be removed, staff must offer the person with the disability the opportunity to obtain goods or services without the animal's presence.
Establishments that sell or prepare food must allow service animals in public areas even if state or local health codes prohibit animals on the premises.
People with disabilities who use service animals cannot be isolated from other patrons, treated less favorably than other patrons, or charged fees that are not charged to other patrons without animals. In addition, if a business requires a deposit or fee to be paid by patrons with pets, it must waive the charge for service animals.
If a business such as a hotel normally charges guests for damage that they cause, a customer with a disability may also be charged for damage caused by himself or his service animal. hotel can charged a Staying fee & Cleaning fee for Service Dogs.
Staff are not required to provide care or food for a service animal.
For Reservation, Special Request, Availability, Call-Text-Whatapp: Hughes Longelin- Owner & Host:
1-954-450-0000
Simply the BEST Villa Hotel & Beach Club in Hollywood Beach Florida, U.S.A.
Villa Sinclair Beach Suites & Spa
& Hollywood Beach Club by Sinclair