---
Villa Sinclair Beach Suites & SPA Policies, Terms, Conditions, Restrictions & Additional Fees & Services
---
ADA Compliant & Accessible /
PET POLICY
---

For every suite type , every rate
Must be 21+ to Book with ID & Valid Matching Credit Card- NO Credit Card OK with $800 Cash Deposit

1/$200 Deposit/ Stay or Per Week which ever come first Non Refundable at the Time of Booking to BLOCK the Dates prior Arrival .
$200 is a non Refundable Deposit in case of Cancellation with 30 days prior Arrival or last minute cancellation or NO SHOW
$200 Deposit will be deducted from Total Booking Upon Check in.

2/ Balance of Entire Stay ( -$200 per stay or Per Week Non Refundable Deposit Prepaid deducted from total stay ) Due upon Check in
With Valid Photo ID & Valid Matching Credit Card must be 21+

3/ +$200 Security Deposit/Stay & or Week for mini Bar/Services/Menu
Due upon Check in.
All Suites Strictly NO Smoking of Any Kind inside or subject to $250 Final Deep Steam Cleaning if You smoke anything in Your Suite.
4/ VIP Guests Citywide Streets Parking Pass $10/Day/Car Due upon Check in for the duration of the stay.
5/ Reserved Parking on Property $20/Day/Car Due Upon Check in for the Duration of the Stay.

6/ 3+ Nights Stay $30 Final Cleaning Fee due upon departure + if The Suite is Returned upon check out Very Messy, with Cooking, Smoke or Bad Smell or need extra Cleaning
Are subject to $30/h additional cleaning fee & up to $250 Deep Steam Cleaning fee upon management Discretion upon final check out inspection.
Any thing broken, Damaged or Missing will be considered sold & charged to Registered Guest

7/ Guests having Period, diaherra, Anal Sex & Staining Bed sheets Sets & Comforter with Blood or Poop will be charged $50 for Bed sheet set & $100 for Comforter replacement which will be considered sold to Guest to keep or throw away.
7/ MINIMUM STAY RESTRICTIONS for Every Suites Type- Every Rate

Book 21 Days+ Before Arrival
7 Nights Minimum Stay
Book 21 to 7 Days Before Arrival

3 Nights minimum Stay
Book 7 days to 2 Nights Before Arrival

2 Nights Minimum Stay

Book 1 Night or Same Day Before Arrival 1 Night Stay ok
No Minimum
8/ Beach Studios (max occupancy 4) can accommodate 2 Adults + 2 Kids <12 yo stay Free with Sofa queen Bed
3rd & 4th Adult $10/Night/Pers
9/ 1 Bedroom Beach Suites (max occupancy 5 )
accommodate 2 Adults + 2 Kids <12 yo stay Free with Sofa queen Bed + single Folding Bed
3rd & 4th Adult $10/Night/Pers

10/ 2 Bedroom Beach Suite
accommodate ( max Occupancy 6) 4 Adults + 2 Kids <12 yo stay Free with Sofa queen Bed
5th & 6th Adult $10/Night/Pers

11/ $20/Stay Resort fees Give access to all Property amenities
Hot tub-Sauna-Shower-Gym-Bikes rental-Beach Toys-Outdoor TVs-BBQs, Cabanas
For up to 6 Guests per suite including kids of all ages.
Add guest of Guests starting the 7th & up is $10/Person for the Day to Use amenities.
12/ All Guests are Strictly require to Shower off sand from the Beach before entering their Suites or using Hot tub, we are glad to provide Outdoor Multi jets Shower in our driveway with Hot & Cold water, Free Shampoo & Conditioner
14/ Included in Your Stay:
Free Welcome Drink by the Outdoor Bar for up to 4 Guests per Suite

Free Welcome Pineapple

Free Stay for up to 2 kids under 12 year old per Suite

$10/Night for 3rd Kid or 3rd Adult sleeping over

Free Baby Crib to use

Free Coconut Shampoo

Free Coconut Conditioner

Free Liquid Body Wash to use

Free Liquid Hand Soap to use

Free Dishwasher Liquid to use

Free Liquid Dish Soap to use

Free Lysol Spray to use

Free Lysol Wipes to use

Free Hand Sanitizer to use

Free Feebreeze Spray to use

Free Rolls of Toilet Papers

Free Garbage Bags

Free Coffee Tea & Creamer

Free Chocolates on Bed

Free Sun Cream Lotion

Free Hollywood Fl Post Cards

Free Post card Stamps

Free Floor Sweeper wipes

Free Champagne Glass on Friday by the Bar

Free Beach Towels to use & only $20 to Keep

Free Beach Chairs to use

Free Cooler to use

Free 10 Towels to use & only $1 each to exchange for Fresh one

Free Hand Towels to use

Free Kitchen linen towel to use

Free 84 local TV channels

Free Netflix, FREE YouTube

With our 55" Smart Roku TVs

Free 100's Online Channels

Free DVDs 40 in each room, 2000 DVDs to exchange

Free CDs to Listen to

Free IPod Base Stereo

Free Iphone Charger

Free Alarm Clock

Free in Suite Safe

Free Wifi

FREE Data Port Fast Internet

Free In Suite Books to read

Free 100's Books to exchange

Free Latest magazines

Free Magazines to take in the Plane when You leave

Free Iron/Iron board to use

Free Add Conforter to use

Free Movie Night OUT

Free PopCorn w Movie night out

FREE Pandora One Outside

FREE Premium YouTube Music No Ads Outside

FREE Portable Blue Tooth Boom Box for Outside

Free assorted Condiments to use

Free Laundry Bag

Free Washer & Dryer to use

Free 30 woods hanger to use

Free Beach Toys to use

Free Huge Floaters to use

Free Games to play w

Free Ping pong table & set to play w

Free Sand bag games

Free Domino's

Free Bikes Rental

Free Hot tub, Sauna, Cabanas, Free Outdoor shower, Free BBQ to use

Free European & International Jacks & Chargers adapters

Free Books to read or échange

Free Magazines

Free Coupons books to 100's attraction

Free Local Map

Free Concierge Service

Free access to all for up to 4 guests per suite

Free UBER Concierge Services if You do not have the app

FREE Luggage's scale

FREE Luggage storage after check out t il departure

Free Reception Storage to Receive Amazon or online Orders

Free Early Check in upon availability

Free Late Check out t il 1 PM

Up to 50% discount on 1000 of products at WinnDixie using our Phone #

Free 1 Hour Photoshoot & 60 photos Airdrop or email w/Your Weekly Stay

All Utilities Included, Electric, Ac, Water, Gas, Fast Internet, 84 Free Local channels, 100 Free Online Channels, free Netflix

Free stationery & free Pens

Free Sunrises on the Ocean 100 feet away

Free Sunsets on the Bay 300 feet away



15/ Not Included in Your Stay:

Everything Sealed in your Suite is Probably for SALE!

Read our Bar & Menu of Services signed & agreed by the Registered guest upon check in- Posted on Suite fridge, given in hand & Explain to
You upon check in, display on the bed upon arrival, in our Lobby, On our Website, on our Social Medias, On Booking.com Photos Gallery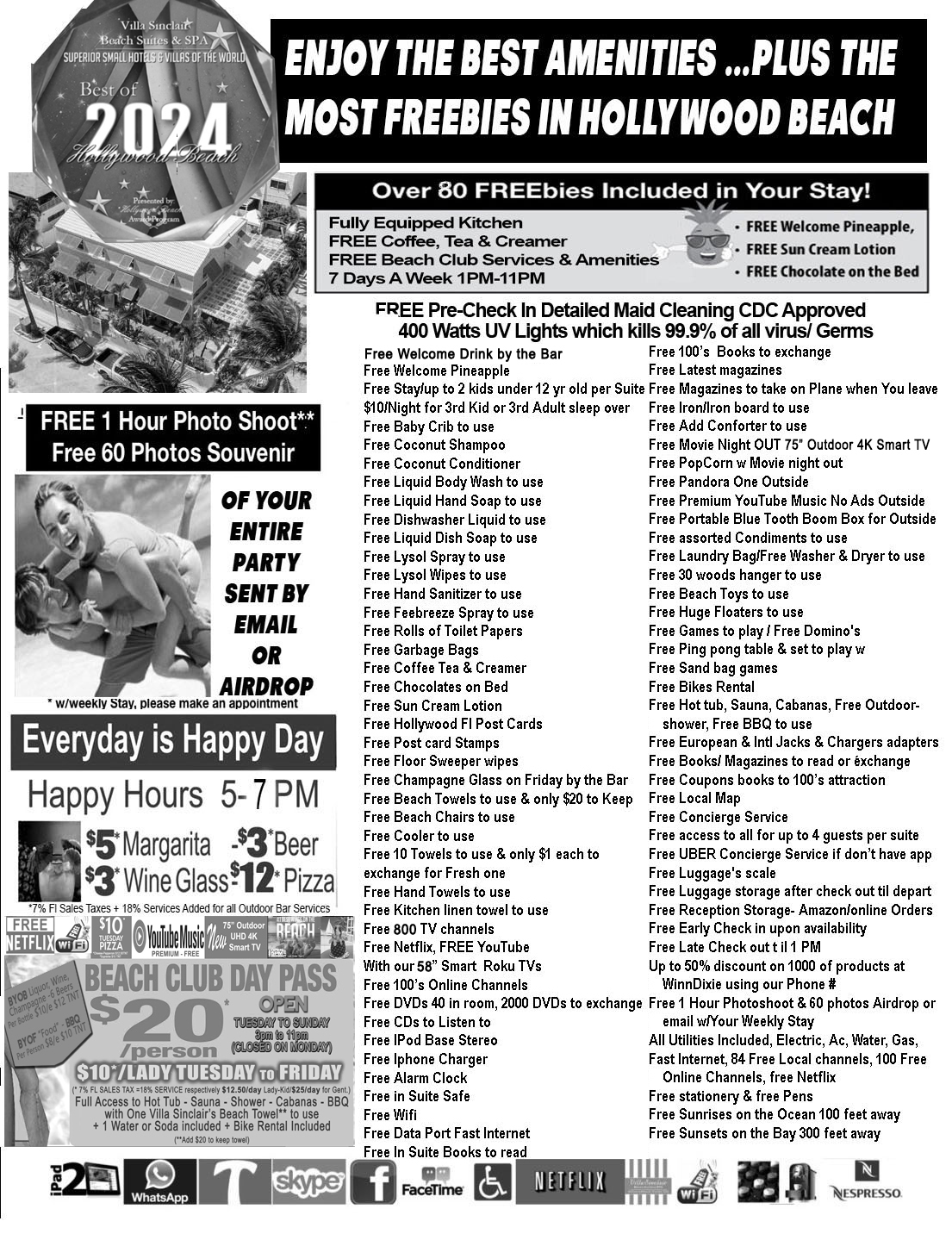 +
Bar & Menu of Red-Buddha-Bar.com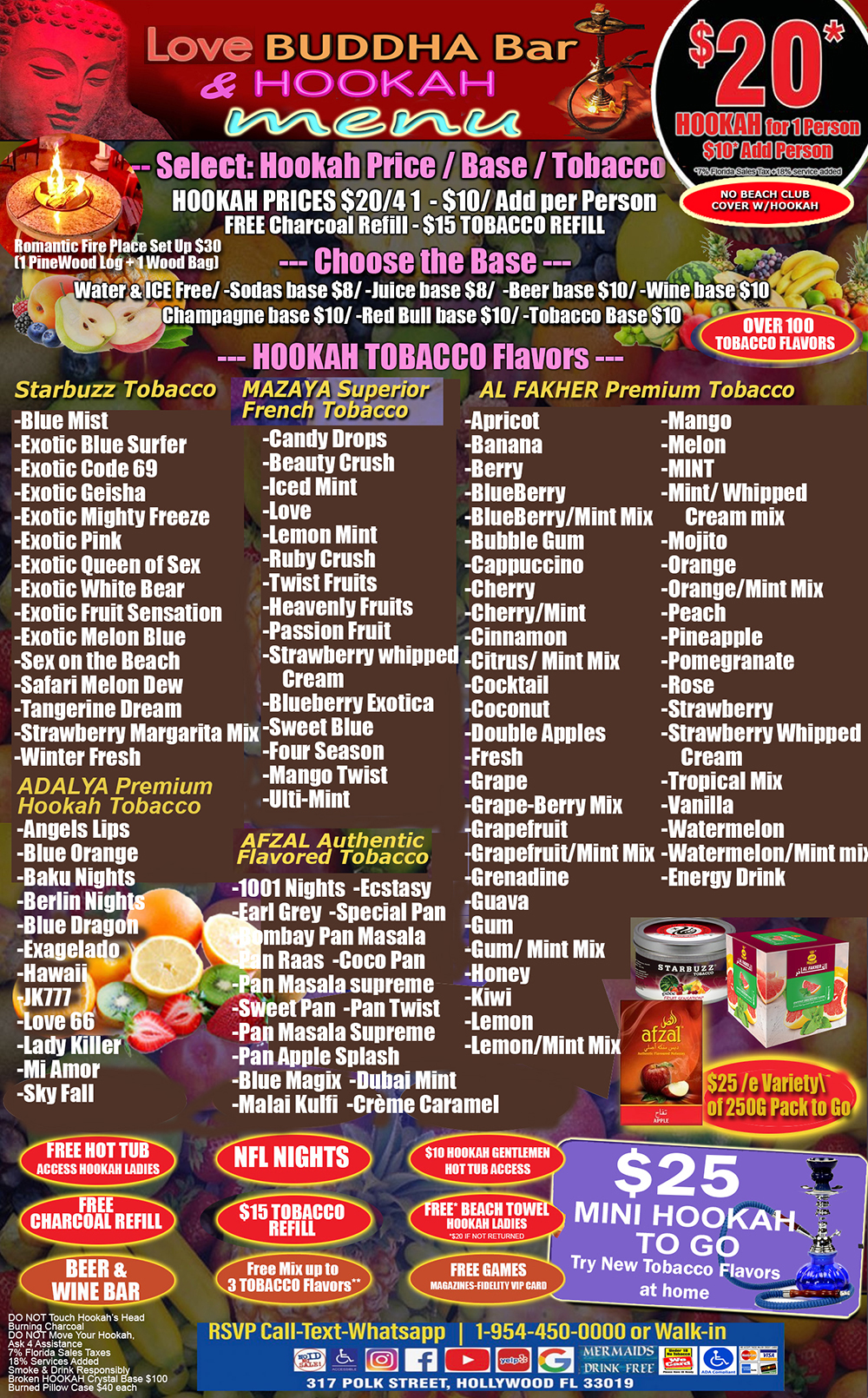 Registered Guest responsible for all his/her Guests consumption & Damages during his/Her Stay.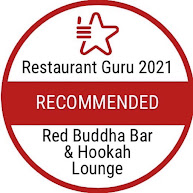 If You need help
We are open from 10 am to Midnight 7 days a Week
Either in # 2 or by the Outdoor bar or
Call or Text
1-954-450-0000
Before 10 am In case of Emergency call 911
Click & Watch Our Latest
Full Virtual Tour of Our Entire Property
CLICK on
Our GOLD is BLUE!
Only ONE Missing is YOU!
#villasinclair @villasinclair
See & Watch Over 2900 Actual Photos & Videos that Speak like A MILLION WORDS!
& Book with Total Confidence in the BEST Place to Stay in Hollywood Beach, Florida USA
To RSVP Call or Text-Whatsapp ME Direct:
Simply the BEST Villa Hotel & Beach Club & HOOKAH Lounge in Hollywood Beach Florida, U.S.A.
Villa Sinclair Beach Suites & Spa
& Hollywood Beach Club by Sinclair USA
First & Only Hollywood Beach Villa Hotel
Rated 3 Diamonds AAA,
Rated 3.5 Emeralds SSHVW,
Rated S.E.H. (Small Elegant Hotels of the World),
Proud Member of the BBB with A+ Rating
14th Time-Award Winner #1"BEST of HOLLYWOOD BEACH" Superior Small Villas & Hotels of the World 2009/10/11/12/13/14/15/16 17/18/19/20/21/22 by the US Chamber of Commerce
Featuring Luxury Beach Studios w/full kitchen fo 2 to 4 Persons
1 & 2 Bedroom Beach Suites w/ full Kitchen for 2, 4 or 6 Persons
by the Beach & Hollywood Boardwalk with Hot tub, Sauna, Multi Jets Showers,
10 BeachSide Cabanas, 2 DayBeds, Hammock, Sundeck, Beach Lounge, Beach Covered bar & Red Buddha Bar & Hookah Lounge Lounge, Full Outside Bar-Full Kitchen, 4 BBQs, 3 Fire Places, FREE Gym, Free Bicycles Rental, Laundry, Business Center, VIP Guest Parking -Beach Club & VIP Reserved Beach Parking Wheelchair Accessible with 50% OFF on VIP Day Pass & VIP Reserved Parking for Handicap, Veterans & Wounded Warriors!
1 Suite ADA Compliance upon Request , Availability & Assistance.
FREE Friday's Champagne by the Fire on the Beach & more.....
Included in Your Stay:
Our entire property is Perfect for
Intimate Beach Wedding, Family Reunion, Birthday Party, Events, Holidays Beach Lounge Parties
B.Y.O.B OK
See Our Bar & Food Menu Click
With 7 Bedrooms, 4 Living Rooms with Queen Sofa Beds, 7 Kitchens, 7 Bathrooms, 10 Beach Parkings to accommodate 14 to 26 persons & for Private Party up to 140 persons surrounded by the Best Private Tropical Beach Lounge 100 feet from the Beach & the UNIQUE Hollywood Boardwalk...
See You Soon at the Villa,
Hughes Longelin
( HUGO BOSS)
Owner & Host